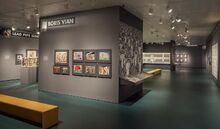 Art Spiegelman has had his artworks presented several times in art galleries and showings such as the AGO, who dedicated an exhibition for his Pulitzer Prize winnings and The New Yorker for the 9/11 issue. Because of Spiegelman's close relationships to the September 11th incident, his contribution to the 9/11 issue of the New Yorker was an important milestone. The AGO has also exhibited Spiegelman's works that extended beyond Maus and made sure to highlight his earilier works and the artworks for other books of his such as In the Shadow of No Towers (2004) and Breakdowns (1977).
The Jewish Museum has also put forth the work for its obvious connections to the Jewish culture and history, and his versatility in language and arts has motivated many. Said museum has also labelled Spiegelman as one of the most influencial comic artists of its time. This showing has been limited to within the borders of the United States, though, as Spiegelman's influence and story that would educate hundreds would have been appreciated by many more wherever it has set its foot down on.
References:
Edit
"Art Spiegelman's Co-Mix: A Retrospective." The Jewish Museum. N.p., n.d. Web. 30 Nov. 2015.
"Art Gallery of Ontario." AGO Presents Retrospective of Acclaimed Comics Artist Art Spiegelman This December. N.p., n.d. Web. 30 Nov. 2015.
by Lydia Baek