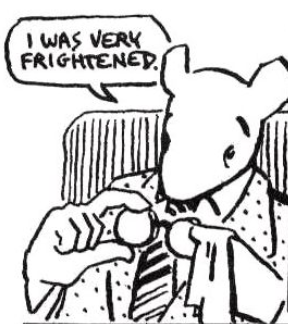 There are two predominant voices in this graphic memoir. The first is of Vladek - the Holocaust survivor and the artist - Art Spiegelman's father. The artist is the second voice that carries the part of the story that allows readers to connect with what is being presented.
Art Spiegelman's introspection and interactions with his father - as tense as they may be - are what take the edge off of Vladek's heavy, but important story. Even when it is revealed how Art felt about his mother's suicide and how he was overwhelmed with guilt, there's still an expectation that Vladek's story will continue as well. It's a balance between the two voices that was very well designed and created to aid the true meaning of this graphic memoir.
As the tone of Maus is very personal to who's point of view it is, it jumps from Vladek's personal way of speaking versus an almost child-like with curiosity tone from Art as he asks questions to get more of the story from his father.
Vladek not only tells what he remembers, but Spiegelman very cleverly leaves in how his father will reflect on what happened which adds to the personal level of this memoir. It gives the audience want to empathize with a person rather than just a story of a faceless survivor.
Although the story itself is very somber and tense, lighthearted interactions between son and father are kept in to help tone it down and make it less serious to read through all together.

By Kaitlyn Seow